PHOTOGRAPHER CAPTURES THE OTHERWORLDLY BEAUTY OF SEA ANGELS FLOATING BELOW THE WHITE SEA ICE.💖
The beautiful and mysterious Sea Angel.💖
This is a sea angel, a type of sea slug and we think it's beautiful!
Sea angels are free-swimming sea slugs that inhabit the cold northern oceans of the world.
While diving under the ice in the White Sea, in Russia's Arctic, marine biologist and photographer Alexander Semenov captured amazing footage and images of sea angels.
Alexander Semenov is the head of the divers' team at Moscow State University's White Sea Biological Station.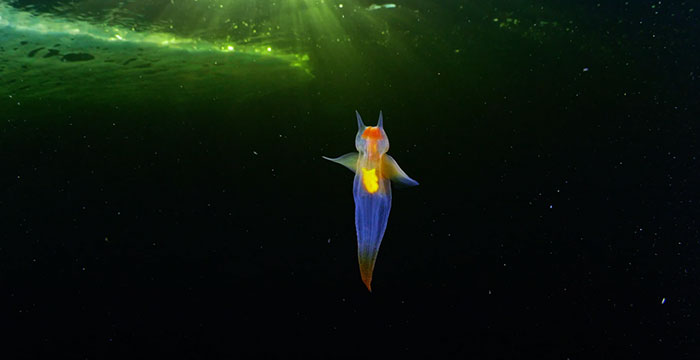 Sea Angel!💖
One of his favorite sea creatures is the Sea Angel.
The tiny sea slug is every bit as beautiful as its name suggests. It resembles the image we have of an angel, with a white, translucent body and wing-like appendages. It is also very graceful as it free-floats.
Sea angels live in large amounts in Arctic and Antarctic seas, and Alexander has captured their beauty in a series of amazing images.
At some point they suddenly appear under an ice cap covering the sea, and in a few weeks there are so many that in one cubic meter of water column there can be up to 500 sea angels! With their size of 2-6 cm it is quite a spectacular sight.
But once the water gets too warm, they disappear.
You can see its a brain!!
This is a cute creature!! Amazing
Watch the video below: