Trucker Reunited With Co-Pilot Cat After 5 Months Thanks To Its Microchip.💖
Ashes Is A Well-Travelled Little Kitty.💖
Ashes, a 3-year-old gray cat who was found at a truck stop in Ohio earlier this month, was reunited with his owner who was multiple states away — all thanks to a microchip.
Lollypop Farm, the Humane Society of Greater Rochester, shared the sweet story on social media to serve as a reminder for pet owners about the importance of microchips to locate lost animals.
Please don't scroll without giving him some love! 🙏💖
A couple of months ago during one such trip Ashes accidentally slipped out of Matthew's 18-wheeler as they were passing through Springfield, Ohio. The cat got scared by unfamiliar surroundings and ran off into the bushes.
Matthew was devastated when he realized that he had to continue the journey without Ashes.
Over the next few months.He refused to give up hope, and neither did Ashes…
For months, the cold and hungry kitty scraped by, until a woman, Kimberley T., spotted a scrawny looking cat.
The woman took Ashes to her car and drove him to the animal rescue organization called Lollypop Farm.
Luckily, Ashes had a microchip which helped to track down Mathew. The employees were quite stunned when they found out that Ashes was 1,465 miles away from home.
When Matthew got the call, five months into Ashes disappearance, he couldn't believe it. He rearranged his route one last time and headed for New York, where Ashes was waiting for him.
When they finally reunited, Matthew couldn't keep the tears from his eyes and Ashes was over.joyed to finally see his cat-dad again.
Now, Ashes and Matthew are finally where they belong – together and on the road. Nothing will separate the pair ever again.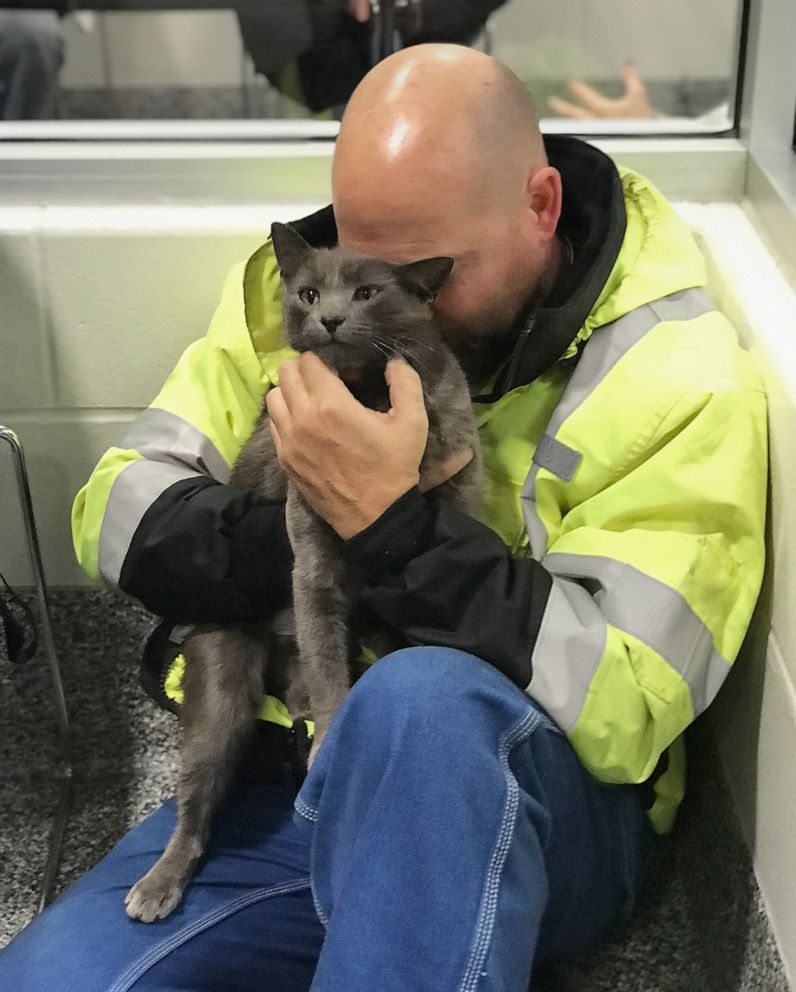 Christmas miracle.💖
It's that microchip – without it, I wouldn't have ever gotten him back.
Thank Women that found him saved his life, but the microchip brought him home.
So happy for both of you. Precious Ashes missed daddy just as much as daddy missed him.God Bless you both
Image credits: Lollypop Farm